RECONNECT. BE REWARDED
Earn 3 x Rewards Points for your Event!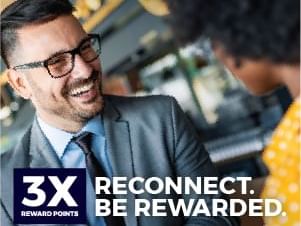 Terms & Conditions
1. The Pacific Meeting Planner 3X Reward points offer ("Offer") is open to ALL Meeting Planner members as defined under the Meeting Planner Terms and Conditions. To join the programme visit the website.
2. To take advantage of the Offer, members must register for the offer between 1 March 2022 and 31 May 2022 by clicking on the 'Register now' button and then following the instructions on the website.
3. The Offer is valid for eligible events with a total minimum eligible spend of AU$3,000 (or the equivalent participating country's currency value) which is booked and event contract signed between 1 March 2022 and 31 May 2022, both dates inclusive ("Campaign Duration"), at any of the participating hotels in Australia, New Zealand, Fiji, French Polynesia and the Alana Moana Hotel Honolulu (for a list of non-participating hotels go to the website), and held between 1 March 2022 and 31 December 2022 (both dates inclusive).
4. The Offer of 3X Reward points will be credited once the event is held and the total event invoice is paid at the participating hotel.
5. Your ALL Loyalty card number must be included in the hotel event contract for the event booked. The contract signatory will earn the Reward points on the total eligible spend as detailed in the Meeting Planner programme terms and conditions.
6. The number of Eligible Events eligible for the Offer is unlimited.
7. The Offer is awarded in Reward points, not Status points. The bonus of Reward points is offered in addition to the Reward points and Status points that are earned by the Member for each eligible event as per the ALL General Conditions of Use and are calculated based on the ALL Meeting Planner earn rate.
8. Each eligible event will receive an Offer of Triple (3X) Reward points, which will be credited to the Member's account within one (1) month of receipt of the total event invoice being paid at the participating hotel.
9. This Offer cannot be combined with any other promotional offer. If the Eligible Event meets the terms and conditions for several offers, only the Reward points linked to the most generous offer (the offer which allows the Member to earn the highest number of Reward points) will be credited to the Member's account.
10. if the Meeting Planner uses Reward points to partially pay for their eligible event, they will receive Reward points on the component paid in cash only.
11. Please specify the reference ID: 014692 in all your communication with ALL call centres or customer care services related to this Offer.
12. Accor reserves the option to amend the terms and conditions of this Offer or to terminate the same without notice.